Commonwealth Business Media, Inc.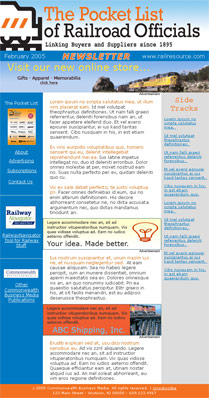 In this electronic newsletter, advertisers can purchase spaces to be seen by the readers, and readers can click on the ad for a link to the advertiser's website and more information. The items in the left column link to various places on the publisher's website. The headlines on the right side are links to each article in the newsletter (not all are shown here).

Created using Photoshop and Dreamweaver.

© 2005 Commonwealth Business Media, Inc. All rights reserved.